Frequently Asked Question's
We know that 416 kilometres is a long way to go and you may have some questions along the way. Please see our FAQ information here to help answer some of the most common inquiries. If you still have questions after reading through our page, we are here to help. Please email us at: info@towomensruns.com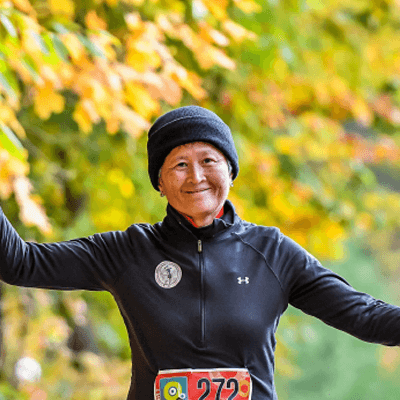 When can I complete the 416 Run Challenge?
You have all the way until July 31, 2021 to complete the 416 Run Challenge.
Where can I complete the 416 Run Challenge?
The 416 Run Challenge is a virtual challenge that can be completed from any location you choose, on the day that you choose, and at your own pace. You can run, jog, or walk on a road, on a trail, or on a treadmill. You can do your runs outside or inside.
When does registration close?
Registration closes on February 28, 2021. Domestic ground shipping fees are included in the registration fee. Processing fees and HST are not included. We do not offer refunds, deferrals or transfers.
How can I confirm my registration in the Challenge?
To confirm if you are registered, please click here. If you do not see your registration confirmation email from Race Roster in your inbox, please check your SPAM/Junk folder.
What is the 416 Run Challenge for Students?
The 416 Run Challenge for Students is a unique opportunity for students (18 years and under) to challenge themselves to stay motivated and keep active throughout the upcoming months and complete a 416 km journey. Students have until July 31, 2021 to complete their journey of 416 kilometres by foot (walking or running) which they can track on their virtual map on their personalized dashboard. They will be linked to a student community of runners and walkers, along with an on-line coach for training and motivation support.
The 416 Run Challenge for Students kit will be sent straight to your home, jam-packed with a 416 Run Challenge neck gaiter to keep you warm and protected, a 416 Run Challenge Bib, and some stickers. We are also excited to include a $25 Asics e-card to help ensure you have fresh kicks (or apparel) for your 416 kilometre journey!
What is the 416 Run Challenge GOLD?
Just like the original 416 Run Challenge, this is a virtual running/walking event that encourages those fleet of feet women who have already completed their first 416 kilometres to set the pace again and run/walk an encore 416 kilometre journey, to run/walk a total of 832 km and complete the 416 Run Challenge GOLD!
The GOLD challenge is exclusive to those that have finished the 416 Run Challenge therefore you will need an access code to register. Access codes are manually sent within 1-3 business days of finishing the 416 Run Challenge.
How do I track and upload my kilometres?
You can track your miles anyway you want and with any device you want and with any Fitness app such as: Garmin, Apple, Runkeeper, a notepad or whatever you wish! You can also use the honor system. It's your choice!
To upload your kilometres, sign in to your Race Roster account and then go to your 416 Run Challenge Participant Dashboard.
Here you will find the " add activity" button and you will be prompted to select the date of the completed activity, and enter your covered distance, (if you want to upload a screenshot, go for it)!
Click here to view a detailed page on how to upload your kilometres.
What app/program do I need to upload my kilometers?
Race Roster makes it easy for you to upload your results on your tracking page! If you are already using a fitness tracker like: Runkeeper, Map My Run, Apple Fitness, Garmin, etc., you just input the distance ran from your app into the corresponding section on your tracking page and you will be good to go!
What if I don't have a fitness tracker/app and I want to upload my kilometers?
No problem at all as you can enter your distance(s) based on the honour system.
Is anyone monitoring the Leaderboard to ensure there are no "unrealistic" distances entered or monitoring for data entry errors?
Yes, we are keeping an eye on the Leaderboard to ensure that this is a "fair" and accurate Challenge for everyone.
When does my Welcome Kit ship?
Welcome kits will be shipped beginning September 28, 2020, on a weekly basis, until registration closes on February 28, 2021.
Please allow 2-3 weeks for your welcome kit to arrive within Canada. Please note, Canada Post is unable to guarantee delivery timelines due to Covid-19 safety protocols and guidelines in place.
What if my Welcome Kit does not arrive during the provided time frame?
Do not panic! Delivery of your run kit may be delayed due to COVID-19 restrictions outside of our control. Please be patient, it is on it's way to you, we promise.
Is there a faster way for me to get my Welcome Kit?
That's easy, just choose expedited/tracking under the Welcome Kit options when you register for the Challenge.

When do my Challenge Charms ship?
The necklace itself arrives in your Welcome Kit. Then as you hit various milestones (150km, 300km and finally cross the finish line at 416km) you'll receive the other three Challenge Charms that will spell out R-U-N (and 4-1-6) to complete the necklace and show the world you met the challenge. We track your progress weekly and will ship Challenge Charms on a biweekly basis.
Do I have to purchase merchandise at registration?
No, not at all. Our official merchandise can be purchased at any time through our online store here. Some items have limited quantities so don't wait to long to ensure you don't miss out.
When should I expect to receive my merchandise?
Please allow for 4 to 6 weeks to receive your merchandise items from your initial purchase date. As we are shipping via Canada Post, there may be delays due to COVID-19 safety protocols in place. If you want expedited shipping (with tracking), within Canada, please select this option at the bottom of the merchandise page.
Is the merchandise refundable?
Sorry, but we are not able to provide refunds on merchandise purchased.
Can I exchange my shirt or hoodie for a different size?
Due to COVID-19 safety protocols, we are not able to offer exchanges on merchandise. We encourage you to review the size chart before you purchase the sized items.
What if I do not live in Canada? Can I still participate?
Yes you can! However, in order to have your Welcome Kit shipped please select either US or International shipping when registering. If you wish to purchase any merchandise you will also have to purchase US or International shipping on these products. (Please note you only need to purchase US or International shipping once at time of purchase and we will ship the merchandise items together.)
Do I have to fundraise?
No fundraising is necessary, but we hope you will join us in giving back.  We are committed to supporting the work of our very deserving partners so that they can continue to serve the community. 
Can men participate?
This Challenge was created by the same amazing team that created Toronto Women's Run Series and is designed to support the women's run community.  Yes, absolutely men can participate! Everyone is welcome! We encourage your partners, brothers, dads, neighbours, sons to join you in the Challenge.
Can kids participate?
For sure! All kids aged 8 years and over can participate in the 416 Run Challenge as long as they are in a safe environment.
Can I bike/ rollerblade/ scooter/ skateboard?
The Toronto Women's 416 Run Challenge is for runners or walkers only. Sorry no biking. rollerblading, scootering or skateboarding is allowed for kilometre tracking purposes.
What if I don't finish the 416 Run Challenge?
We sure hope you do!  Don't forget you have until July 31, 2021 to get to your own personal finish line. We have training programs and other tips available to support you along the way so don't hesitate to use these resources to help you.  Please note that we are unable to offer refunds, transfers or deferrals.
Any cool stuff I can share on social?
We love that you want share!  That's what this community is all about. Photos of you in your neck gaiter, sipping from your branded mug, wearing your 416 Run Challenge merchandise or showing off your bling as you earn your Challenge Charms are all awesome ways to humble brag and keep others motivated to run virtually with you.  Keep sharing and keep moving! You can use #TW416RC and tag us on Instagram
@towomen_runs
or on Facebook
@torontowomensruns
or on twitter
@TOWomensRuns!
What's a memorable event without great gear? Look good as you log your kilometres or reward yourself when you cross the finish line. Either way, get access to exclusive 416 Run Challenge swag – only for participants! Check out the Store here.
Shop Now


The 416 Run Challenge is presented by the Toronto Women's Run Series, one of the most popular women's race series in the country. We are Toronto based and committed to supporting other women owned and operated small businesses.