10k/5k Race Information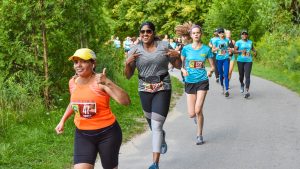 Race Date: Saturday, August 24, 2019
Distances:
Start Times:
Entry Fee includes:

A limited edition Toronto Women's 10k/5k souvenir running shirt
Medals for all finishers from FOXY Originals
Personalized race bib, if registered by Sunday, August 19
A great race kit
Access to our very festive post-race party!
2019 Race Shirt:  Design coming soon
2019 Finisher Medal:   All finishers receive this exclusive finisher medal 

Registration Confirmation Links:
If you entered via Race Roster, click here to view the confirmation page

If you entered via through Running Room  – click the appropriate race distance link to see the applicable confirmation list.
If you don't see your name on the confirmation list, please e-mail us and we will assist as needed.
Pre Race Kit Pick Up and Late/In Person Registration:
Rosedale Running Room – 1087 Yonge St, Toronto, ON, M4W 2L5
Thursday Aug 22 – 4:00pm – 8:00pm
Friday Aug 23 – 12:00pm – 7:30pm
There will be NO race day registration.
There is a Green "P" parking lot on Price Street. If you are on the TTC, the Running Room store is two blocks south of the Summerhill station or two blocks north of the Rosedale station.
IMPORTANT: Please bring photo ID OR a printout of your email registration confirmation for race kit pick-up. If you are picking up for a friend/friends, this is not a problem, all you need is an e-mail confirming you can pick up their kit for them or just present their registration confirmation email.
RACE DAY KIT PICK UP: At the race site, at Wilket Creek Park, on Saturday, August 24 beginning at 6:45am
**THERE WILL BE NO RACE DAY REGISTRATION**
Race Day Schedule:
| | |
| --- | --- |
| 6:45am | Information tent opens |
| 6:45am | Baggage Check Opens |
| 6:45am | Race Day kit pick-up opens |
| 8:00am | 10k race START – Wave 1: Red Corral |
| 8:03am | 10k race START – Wave 2: Red Corral |
| 8:15am | 5k race START – Wave 1:  Yellow Corral |
| 8:18am | 5k race START – Wave 2: Yellow Corral |
| 9:45am | Course closes down |
| 9:45am | Awards Ceremony Begins |
10k Wave Information: To enable everyone to have the fastest and safest race possible, we will be utilizing a two wave start for the 10k.
Wave 1 – Estimated finishing time: 60 minutes and under – Red Corral
Wave 2 – Estimated finishing time: Over 60 minutes – Red Corral
5k Wave Information: To enable everyone to have the fastest and safest race possible, we will be utilizing a two wave start for the 5k.
Wave 1 – Estimated finishing time: 30 minutes and under – Yellow Corral
Wave 2 – Estimated finishing time: Over 30 minutes – Yellow Corral
Course Description
10k/5k Routes: The routes are on paved paths throughout the park system. 10k and 5k Route Map.
Please note that the park is NOT closed to the public. Be aware of your surroundings and other runners near you.
Timing: We will be using the Mylaps BIBTAG Timing system. With this technology your timing chip or "bibTag" is now placed on the back of your race bib. It must be correctly worn on race day for your race time to be accurately captured. Important Info:
Do not remove the "bibTag" or foam spacer from your bib
Do not fold your bib or excessively bend or twist the "bibTag"
Wear your bib on your front. Do not wear on your back, side, leg or arm
It's "NO BIB = NO TIME!". To read more about the Mylaps BIBTAG technology and Sportstats.
Time Limit: The time limit is 1 hour and 40 minutes for completing the 10k race before the finish line is dismantled
Bib Numbers: Your bib number must be worn on your front and visible along the entire route. Only athletes wearing a bib number will be allowed to cross the finish line and receive a medal.
Awards: Top three women overall and top 3 per age group (5 year age groups)
Finish Line Safety: Safety is our priority at all Toronto Women's Run series events. For that reason, and in response to participant feedback, children will no longer be allowed to cross the finish line with their mother unless they are registered in the race. We have created this policy to ensure the safety of all participants, volunteers and fans. Allowing non-participants, including young children, to cross the finish line serves as a distraction to other finishers, poses a safety risk and disrupts our finish line operations. We know you want to celebrate this wonderful achievement of finishing the race with your children, but we ask you to do so only after you cross the finish line. Family and friends are encouraged to reunite with their athlete in the post-race area just beyond the finish line.
Age Limits: All children must be registered in the race and the minimum age for participation is 6 years of age.  Anyone under the age of 13 must be accompanied by a registered adult.
We are from out of town, where should we stay? Click here for hotel information
Course Restrictions: Owing to shared path and roads of this beautiful course, NO baby joggers, strollers, rollerblades or bikes are allowed.
On Course Hydration Stations:
ESKA Water and nuun active electrolyte drink are available at the Start/Finish line
On the Course: Water will be at 3k, 6k and 8k stations. nuun active will be also be available on the 10k route at the 3k/7k station
Bag Check: Opens at 6:45am. Please use the removable tag attached to your bib and attach it to your bag
Race Day Photos: ZoomPhoto will be on the route and at the finish line taking photos of all athletes
POGO Pledge Drop Off: Representatives from POGO will be at the information tent and you can drop off any pledges/funds you have
Directions To The Race  –  Wilket Creek Park within the Sunnybrook Park Area

If Driving: entrance to Wilket Creek Park, within the Sunnybrook Park area, is at 1132 Leslie Street. This is 100m north of Eglinton Ave. East.
From the 401 (north of the park)
Take the Leslie St. exit off the 401, head south almost six kilometers to the entrance of the park.

From downtown Toronto
Go north on Avenue Rd., Yonge St., Mt. Pleasant or Bayview to Eglinton Ave., turn right (east), continue to Leslie, go left  (north) 100m to the entrance of Sunnybrook Park.
From 404/DVP
From DVP, take Eglinton Ave. Exit, go west to Leslie St., go right (north) 100m to the entrance of Sunnybrook Park.
Public Transit – TTC INFO: There is very intermittent TTC service along Eglinton Ave. East early in the morning, so consider taking a cab with your friends to the start and then taking the TTC home.  Visit www.ttc.ca for more info
Parking
Parking within the park area is limited.  Please keep in mind that everyone will have to park and walk to the start area. Give yourself at least 15-20 minutes to get into the park, to park and then to walk to the start area.
Note: The park is NOT closed to traffic so please pay attention to parking marshals and follow their directions to the appropriate lots. Do NOT park illegally as you may receive a ticket. All roads and areas within the parking lots are subject to all City of Toronto parking by-laws.
Parking inside the park:
Directly inside the park, north of the main entrance (150m from start/finish line)
Past the washrooms (a 250m walk to start / finish line) in the Serena Gundy Parking lot
Along park road (a 300m walk to start / finish line)
In the middle lot (just a 400m walk to start / finish line)
In the lot across from Sunnybrook Stables
In the lot at the playing fields at the top of the hill
Parking outside the Park:
There is some parking available on Eglinton Ave, west of Leslie St. This is about a 1.5k walk to the race site
At Sunnybrook Hospital and then walk down the hill and head towards the start line but please give yourself lots of time, as it is about a 2.5k walk
There is some parking available in surface lots on Eglinton Ave, west of Leslie St. This is about a 1.5k walk to the race site
There is parking available at 1165 Leslie Street, which is north of the park entrance. This is about a 800m walk to the race site
Saturday, August 24, 2019